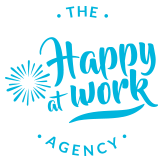 WANT OR NEED TO MAKE A CAREER CHANGE?
YOU'VE COME TO THE RIGHT PLACE!
HOW CAN WE HELP YOU?
WE ARE THE HAPPY AT WORK AGENCY
Since 2007 we have helped hundreds of professionals to find a job that allows them to flourish and secure their income. Throughout the years we have gathered the best tools in our "9 steps to a fulfilling career" individual coaching programme and our "RISE – Overcoming redundancy and getting a job you really want" group coaching programme to help you get clarity on your true talents and best next step.
We'd love to help you find a job that is a perfect match with your natural talents, personality and ambitions. We can help you stand out from the crowd and secure your income doing work that you love! 
We've created a structured plan
to discover your talents

and opportunities and create a positive career change
© 2020  The Happy at Work Agency B.V. | Matterhornlaan 13, 5801 KH Venray, The Netherlands